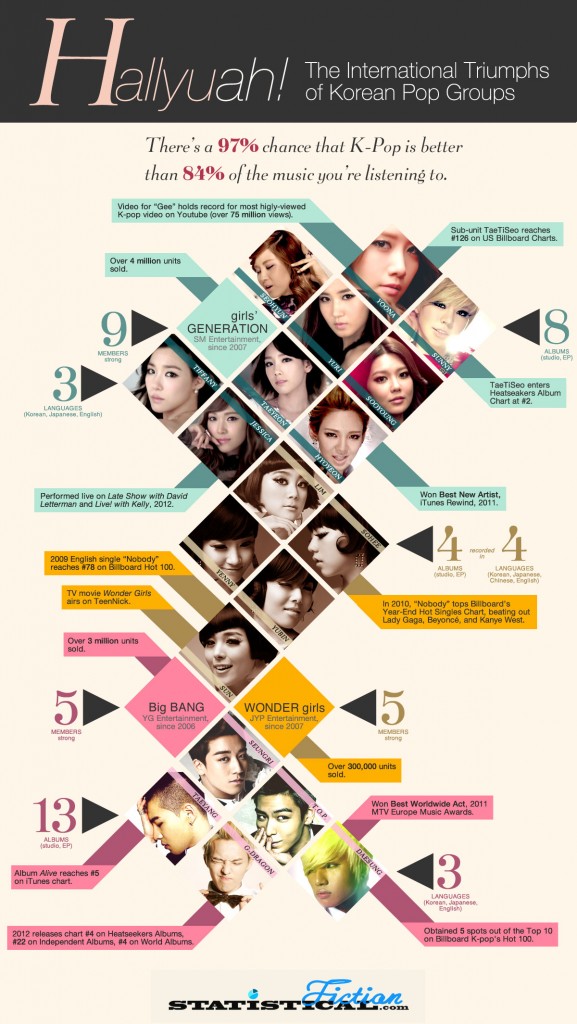 Google is like one of the gods of the tech world – when they tell us to like something, we listen. That's why I was shocked and delighted to see them sponsor a concert at Google Headquarters last month called "Korean Music Wave." Featuring a host of popular Korean ensemble bands, it may have seemed like an unusual event to the average onlooker. However, for a hardcore K-pop fan like me, it was nothing short of a magical announcement.
So why are Google putting their mammoth support behind the K-pop movement (also known as hallyu)? Well, I think there are a few reasons, but let's discuss some of the most important ones.

1. It's a polished product with great crossover potential.
When you watch a K-pop video, you get instantly drawn in, even if you aren't a fan of dance music. Korea pulls out all the stops when they make music videos, and the fact that budget is not object really shows in the polish of their presentations. The videos often tell a story, and they show more more of a thoughtful approach than the current MTV generation's videos. Add a flawless approach to choreography and production, and it's no surprise the beat makes you makes you get up to dance.
2. It's sexy without being "too much."
While idols like Justin Bieber, Kanye West, and Beyonce are big news in the American pop scene, there is one aspect of American pop that Korean pop doesn't present in the same way: sexuality. American videos tend to go over the top in many aspects, often portraying situations that parents may not feel comfortable with their teenagers seeing. K-pop is sexy, but in a very different way. Also, "hard" themes such as drugs and crime rarely come up in K-pop, not even in the hip-hop scene. It's part of what makes k-pop carefree and easy to enjoy.
3. It's foreign, but it's also familiar.
While not every K-pop group sings in English, quite a few do, such as Girls Generation (who were also recently featured on the David Letterman show). While language acts as a barrier for many forms of music to reach mainstream popularity, Most Korean pop has a fair smattering of English in it, and it's easy to sing along to because of it. This helps to make the music more accessible, but even if it's not English-heavy, a lot of K-pop fans find that they fall in love with the music anyway.
4. K-pop stars are trained entertainers.
Unlike many other bands who end up on stages together without a lick of formal training, K-pop acts are assembled by skilled entertainment conglomerates who have the boy and girl bands formulas down to a science. S.M. Entertainment, YG Entertainment, and JYP Entertainment are the companies that are behind some of the biggest K-pop acts in the industry. When young men and women join these talent companies, they are thoroughly trained to become top-notch singers and dancers. It's a part of why your jaw drops every time you watch these performers blow it away on stage.
K-pop has plenty of basic appeal, but there's also one element that makes it hopeless addictive: the fact that it's naturally happy music. As a fan, I hope the hallyu wave continues to grow and grow, because it's just the kind of fun that makes my music library better.
Interested in listening yourself? Start with some of our favorites: Girls Generation, Big Bang, Super Junior, T-ARA, Wonder Girls, TVXQ, and BEAST. Enjoy, and don't forget to get up and dance!